Dr. Manuel Arroyo, LL.M., MCIArb
Position
Partner
Expertise
Manuel Arroyo represents parties and serves as arbitrator (co-arbitrator, chairman, sole arbitrator) in arbitrations, in particular in proceedings under the ICC Rules, DIS, UNCITRAL, VIAC, SCC, LCIA and Swiss Rules.
He also represents clients in proceedings before state courts and administrative bodies.
Further business activities
Guest lecturer at the Swiss Arbitration Academy.
Professional experience
Admitted to the Basel Bar since 2002; research and teaching assistant at the Basel University Law Faculty (1999); internships in Basel at the Department of Justice and a business law firm (2000/2001); associate with Python Peter, Geneva (2002-2004); law clerk with the Swiss Federal Supreme Court in Lausanne (2004-2006); associate with Bär & Karrer, Zurich (2007-2011); partner/Head of Arbitration with Meyerlustenberger Lachenal (2011-2017); partner with Nater Dallafior Rechtsanwälte AG, Zurich, since 2017
Languages
German, English, Spanish, Italian, French
Professional recognitionChambers & Partners
state:
"Sources praise his deep knowledge of Swiss arbitration law and describe him as someone with a 'practical approach and very hands-on'. Arroyo sits on arbitration tribunals under a wide range of rules, including SCAI, ICC and Vienna Rules."
The Legal500
wrote:
"Practice head Manuel Arroyo is a very diligent, professional and seasoned arbitrator"
and
"has impressive analytical skills and a deep knowledge of arbitration law"; "skilled and pro-active arbitrator Manuel Arroyo"; "Clients recommend 'multilingual and highly experienced' international arbitration expert Manuel Arroyo."
Further,
"Manuel Arroyo is a very experienced arbitration practitioner appreciated for his clear and thoughtful conduct in proceedings, his instinct for procedural solutions in complicated situations and his fairness in going about highly disputed issues"
;
a "key practitioner" who is "well versed in the pharmaceutical, construction and automotive sectors."
Who's Who Legal
consider him a "Global Leader" and, inter alia, stated:
"The 'outstanding' Manuel Arroyo 'does a great job as arbitrator' according to sources, who consider him 'very knowledgeable' of international arbitration proceedings and commend his 'sophisticated approach'".
Further,
"Manuel Arroyo is highly commended by peers for his capability as a counsel in a range of international arbitration proceedings"
;
"he is a well-recognised figure in the Swiss arbitration market who comes highly recommended for his 'strong academic background'"
;
"Manuel Arroyo is well respected by peers who commend his considerable experience both as arbitrator and counsel in construction, oil and gas, and pharmaceutical disputes"
; he is
"lauded by international sources for his 'outstanding procedural know-how'"
;
"he is widely known as 'a brilliant lawyer doing amazing work for the Swiss arbitration community'"
;
"Peers and clients say: 'He is a very highly regarded arbitrator'.;
'Manuel has outstanding procedural know-how';
'He is highly experienced as arbitrator'".
Litigation & International Arbitration Report
, Leaders League highly recommends him for international arbitration.
Germany's leading arbitration journal (
SchiedsVZ
) and
The Legal500
have each praised him as an "
international arbitration expert"
.
Education
Studies at the University of Basel (lic. iur., 1998; Dr. iur., 2001); internships/study for the bar exam in Basel (bar admission, 2002); University of Stockholm (LL.M. in International Commercial Arbitration Law, 2007)
Professional affiliations
Swiss Arbitration Association (ASA); International Council for Commercial Arbitration (ICCA); Chartered Institute of Arbitrators (MCIArb), London; Club Español del Arbitraje (CEA), Madrid; German Institution of Arbitration (DIS); International Bar Association (IBA); Swiss Bar Association (SAV); Zurich Bar Association (ZAV); International Centre for Dispute Resolution (ICDR), New York
Publications
Arbitration in Switzerland – The Practitioner's Guide, sole editor and co-author, Kluwer Law International, 2018, 2nd ed., 2'957 pages, 2 volumes (considered as the most comprehensive treatise on the law and practice of international arbitration in Switzerland)
Commentary on Article 190 PILS (Finality and Challenge of the Award), in: M. Arroyo (ed.), Arbitration in Switzerland - The Practitioner's Guide, Kluwer Law International, 2nd ed., 2018, pp. 266-350
Commentary on Article 191 PILS (Competent Judicial Authority), in: M. Arroyo (ed.), Arbitration in Switzerland – The Practitioner's Guide, Kluwer Law International, 2013, pp. 351-375
Commentary on Art. 42 Swiss Rules of International Arbitration (Expedited Procedure), in: M. Arroyo (ed.), Arbitration in Switzerland – The Practitioner's Guide, Kluwer Law International, 2nd ed., 2018, pp. 842-861
Commentary on Art. 30 ICC Arbitration Rules (Expedited Procedure), in: M. Arroyo (ed.), Arbitration in Switzerland – The Practitioner's Guide, Kluwer Law International, 2nd ed., 2018, pp. 2429-2434
Commentary on Appendix VI of the ICC Arbitration Rules (Expedited Procedure Rules), in: M. Arroyo (ed.), Arbitration in Switzerland – The Practitioner's Guide, Kluwer Law International, 2nd ed., 2018, pp. 2435-2445
Commentary on Art. 37 ICC Arbitration Rules (Advance to cover the costs of the arbitration), in: M. Arroyo (ed.), Arbitration in Switzerland – The Practitioner's Guide, Kluwer Law International, 2nd ed., 2018, pp. 2463-2478
Commentary on Art. 38 ICC Arbitration Rules (Decisions as to the costs of the arbitration), in: M. Arroyo (ed.), Arbitration in Switzerland – The Practitioner's Guide, Kluwer Law International, 2nd ed., 2018, pp. 2479-2492
Schiedsklauseln und Schiedsvertrag, in: Münch/Böhringer/Kasper Lehne/Probst (ed.), Schweizer Vertragshandbuch - Musterverträge für die Praxis, ed. 3, Basel 2018, pp. 97 et seqq. and pp. 135 et seqq.
Die Wohn- und Geschäftsraummiete, in: Münch/Böhringer/Kasper Lehne/Probst (ed.), Schweizer Vertragshandbuch – Musterverträge für die Praxis, ed. 3, Basel 2018, pp. 433 et seqq. and pp. 457 et seqq.
La procedura arbitrale, in: Benedetelli/Consolo/Radicati di Bronzolo (eds.), Commentario breve al Diritto dell'Arbitrato nazionale ed internazionale (Breviaria Iuris); Parte II: Arbitrato Internazionale; Titolo VI, 2nd edition, Milano 2017, pp. 921 et seqq. (co-authored with Cesare Jermini)
When arbitrators miss the deadline for notifying the award… and how to avoid this nightmare, Case Note on Supreme Court decision BGE 140 III 75, in: Belgian Review of Arbitration, b-arbitra, 2016/2, pp. 185-194
Commentary on Articles 381–384 Swiss Code of Civil Procedure (ZPO), in: Sutter-Somm/Hasenböhler/Leuenberger (eds.), Kommentar zur Schweizerischen Zivilprozessordnung (ZPO), 3rd ed., Zurich/Basel/Geneva 2016, pp. 3047–3093
The New LCIA Rules, in: C. Müller/S. Besson/A. Rigozzi (eds.), New Developments in International Commercial Arbitration 2015, Zurich/Basel/Geneva 2015, pp. 27–109
Arbitration in Switzerland – The Practitioner's Guide, Sole editor and co-author, Kluwer Law International, 2013, 1'656 pages (considered as the most comprehensive treatise on the law and practice of international arbitration in Switzerland)
Commentary on Article 190 PILS (Finality and Challenge of Award), in: M. Arroyo (ed.), Arbitration in Switzerland - The Practitioner's Guide, Kluwer Law International, 2013, pp. 204–264
Der Schiedsspruch: Anwendbares Recht (Art. 381 ZPO), in: Thomas Sutter-Somm/Franz Hasenböhler/Christoph Leuenberger (eds.), Kommentar zur Schweizerischen Zivilprozessordnung (ZPO), 2nd ed., Zurich/Basel/Geneva 2013, pp. 2724 et seqq.
Beratung und Abstimmung des Schiedsgerichts (Art. 382 ZPO), in: Thomas Sutter-Somm/Franz Hasenböhler/Christoph Leuenberger (eds.), Kommentar zur Schweizerischen Zivilprozessordnung (ZPO), 2nd ed., Zurich/Basel/Geneva 2013, pp. 2738 et seqq.
Zwischen- und Teilschiedssprüche (Art. 383 ZPO), in: Thomas Sutter-Somm/Franz Hasenböhler/Christoph Leuenberger (eds.), Kommentar zur Schweizerischen Zivilprozessordnung (ZPO), 2nd ed., Zurich/Basel/Geneva 2013, pp. 2748 et seqq.
Commentary on Article 191 PILS (Competent Judicial Authority), in: M. Arroyo (ed.), Arbitration in Switzerland – The Practitioner's Guide, Kluwer Law International, 2nd ed., 2018, pp. 351-375
Der Inhalt des Schiedsspruches (Art. 384 ZPO), in: Thomas Sutter-Somm/Franz Hasenböhler/Christoph Leuenberger (eds.), Kommentar zur Schweizerischen Zivilprozessordnung (ZPO), 2nd ed., Zurich/Basel/Geneva 2013, pp. 2756 et seqq.
The new Swiss Rules of International Arbitration 2012 – MLL Legal & Tax Update, December 2012
SWITZERLAND – A Location for International Arbitration, Acquisition International, February 2012, p. 36
Which is the better approach to Jura Novit Arbiter – the Swiss or English? in: Müller / Rigozzi (eds.), New Developments in International Commercial Arbitration, Zurich 2011, pp. 27 et seqq.
The new ICC Rules of Arbitration 2012 – Die neue ICC-Schiedsordnung 2012, in: Meyerlustenberberger Newsletter (December 2011)
Schiedsabreden im Kotierungsreglement – Besprechung des Urteils des Bundesgerichts 4A_533/2010 vom 1. Dezember 2010, GesKR 2/2011, pp. 245 et seqq. (co-authored with Till Spillmann)
La disciplina del procedimento arbitrale, in: Massimo V. Benedetelli, Claudio Consolo, Luca G. Radicati di Bronzolo (ed.), Commentario breve al Diritto dell'Arbitrato nazionale ed internazionale (Breviaria Iuris No. 24); Parte II: Arbitrato Internazionale; Titolo VI: La procedura arbitrale, Edition 1, Milano 2010, pp. 785 et seqq. (co-authored with Cesare Jermini)
La lingua dell'arbitrato, in: Massimo V. Benedetelli, Claudio Consolo, Luca G. Radicati di Bronzolo (ed.), Commentario breve al Diritto dell'Arbitrato nazionale ed internazionale (Breviaria Iuris No. 24); Parte II: Arbitrato Internazionale; Titolo VI: La procedura arbitrale, ed. 1, Milano 2010, pp. 828 et seqq. (co-authored with Cesare Jermini)
Der Mietvertrag (Wohnung), in: Peter Münch, Peter Böhringer, Sabina Kasper Lehne, Franz Probst (ed.), Schweizer Vertragshandbuch – Musterverträge für die Praxis, ed. 2, Basel 2010, pp. 343 et seqq.
Der Mietvertrag (Geschäftslokal), in: Peter Münch, Peter Böhringer, Sabina Kasper Lehne, Franz Probst (ed.), Schweizer Vertragshandbuch – Musterverträge für die Praxis, ed. 2, Basel 2010, pp. 365 et seqq.
Schiedsklauseln, in: Peter Münch, Peter Böhringer, Sabina Kasper Lehne, Franz Probst (ed.), Schweizer Vertragshandbuch - Musterverträge für die Praxis, ed. 2, Basel 2010, pp. 51 et seqq.
Der Schiedsvertrag, in: Peter Münch, Peter Böhringer, Sabine Kasper Lehne, Franz Probst (ed.), Schweizer Vertragshandbuch – Musterverträge für die Praxis, ed. 2, Basel 2010, pp. 89 et seqq.
Pitfalls of Waiver Agreements under Article 192 PILS in Multi-Contract Settings – Some Remarks on Swiss Federal Court Decision 134 III 260, ASA Bulletin 2009, no. 1, pp. 103 et seqq. (co-authored with Cesare Jermini)
Dealing with Dissenting Opinions in the Award: Some Options for the Tribunal, ASA Bulletin 2008, no. 3, pp. 437-465
Lis Pendens in International Arbitration – The newly adopted Swiss approach, Stockholm International Arbitration Review 2007, vol. 1, pp. 19–39
Schweizer Vertragshandbuch, Musterverträge für die Praxis, Münch/Böhringer/Kasper/Probst [Hrsg.], Basel 2006 (Kurzkommentierung der Geschäftsraum- und Wohnungsmiete, 42 pages, pp. 225–267)
Rechtsnatur des Anspruchs der Aktionäre, zum Sonderprüfungsbericht Ergänzungsfragen zu stellen, und Anfechtung der Ablehnung ihres Gesuchs vor Bundesgericht (ZBJV 2006, 7./8., pp. 631 et seqq.)
Praxis des Bundesgerichts zur Herausgabe von Retrozessionen und Finder's Fees im Rahmen eines Vermögensverwaltungsvertrages (ZBJV 2006, 7./8., pp. 625 et seqq.)
Rechtsfolgen bei unterlassener Anzeige einer Massenentlassung an das Arbeitsamt (ZBJV 2006, 6, pp. 555 et seqq.)
Internationale Schiedsgerichtsbarkeit: Unbeachtlichkeit drittstaatlicher Eingriffsnormen bei gültigem Rechtsmittelverzicht nach Art. 192 IPRG (ZBJV 2006, 2, pp. 181 et seqq.)
Zu Sinn und Tragweite von Art. 310 Abs. 2 SchKG - Verbindlichkeiten der Masse in der Nachlassstundung (Basler Juristische Mitteilungen 2003, pp. 233–277)
Für den zeitlichen Wirkungsbereich der Décharge ist der Zeitpunkt der schadensstiftenden Pflichtverletzung massgeblich und nicht jener des Schadenseintritts (ZBJV 2005, pp. 814 et seqq.)
Der fehlende Gerichtsstand in der Schweiz bei vertraglichen Streitigkeiten mit hiesigen Zweigbetrieben ausländischer Gesellschaften – Praxis des Bundesgerichts zu Art. 112 IPRG (Jusletter of 4 April 2005)
Die unentgeltliche Rechtspflege wird nicht für einen Prozess, sondern einer Prozesspartei gewährt – Praxis des Bundesgerichts zu Art. 29 Abs. 3 BV (Jusletter of 25 April 2005)
Zur rechtsmissbräuchlichen Geltendmachung des mangelnden Schlichtungsverfahrens in Mietstreitigkeiten nach Art. 274a OR und Verwirkung prozessualer Einreden im Allgemeinen (Jusletter of 23 May 2005)
Voraussetzungen konkludent geschlossener Aufhebungsverträge und gerechtfertigter fristloser Kündigungen – Praxis des Bundesgerichts zum Arbeitsvertrag (Jusletter of 6 June 2005)
Die Einrede "dolo agit, qui petit, quod statim redditurus est" im Rahmen von fiduziarischen Abtretungen und Kettenzessionen (Jusletter of 25 July 2005)
Risiken des Bestellers bei Pauschalwerklohnvereinbarungen und Unwirksamkeit von unter Vorbehalt abgegebenen Verrechnungserklärungen (ZBJV 2005, pp. 527 et seqq.)
Absolute Nichtigkeit von nicht auf dem amtlichen Formular erfolgten Mietzinserhöhungen; Verwirkung des entsprechenden Rückforderungsrechts bei Rechtsmissbrauch (ZBJV 2005, pp. 623 et seqq.)
Kein Erlöschen der Vollmacht mit Eintritt der Handlungsunfähigkeit des Vollmachtgebers bei vorgängiger Vereinbarung ihres Weiterbestehens (ZBJV 2005, pp. 620 et seqq.)
Praxis des Bundesgerichts zur Gleichberechtigung von Mann und Frau (1848–1981), Doctoral Thesis, Basel 2001, 235 pages, Basler Studien zur Rechtswissenschaft, 2001, Helbing & Lichtenhahn (ed.), vol. 64/B
Speaking Engagements
"The parties', arbitral institutions' and the Swiss Federal Supreme Court's expectations and requirements as to the reasoning of arbitral awards", Organizer: Zurich Bar Association (ZAV)/ASA Group Zurich, 30 March 2021, Zurich
Dos & Don'ts in Cross-Examination – The golden, the silver and other Rules, Webinar, Organizer: Nater Dallafior Rechtsanwälte AG, 2 October 2020, Zurich
How to draft effective dispute resolution clauses and how to solve issues when drafting was poor, Webinar, Organizer: SCAI/ASA, 24 September 2020, Geneva
Arbitraje en España y en Suiza bajo el Reglamento suizo de arbitraje internacional (introduction, moderation and closing remarks), Organizer: SCAI, 4 July 2019, Madrid
Ukrnafta/Stabil vs. The Russian Federation & Deutsche Telekom vs. India: Jurisdictional lessons from recent investment cases, Organizer: Paris Arbitration Week, 5 April 2019, Paris
Rechtliches Gehör, Rügepflicht und Kausalität – Rechtsprechung des Schweizerischen Bundesgerichts, Organizer: ArbAut-ASA-LIS, 21 September 2018, Vienna
What do users expect of arbitration? What are their concerns?, Panel Chair/Moderator, Organizer: Center for International Legal Studies (CILS), 7 June 2018, Salzburg
The Tribunal's Role in Complex Construction Arbitrations: Dos & Don'ts (especially in serial and parallel arbitrations), Organizer: CAM-SCAI-TILPA, 24 May 2018, Geneva
Practical tips on challenging international arbitral awards in Switzerland, Organizer: Swiss Arbitration Academy (SAA), 29 January 2018, Zurich
Arbitrating Intra-Corporate Disputes, Keynote Speech & Concluding Remarks, Organizer: ICC/CEPANI, 9 December 2016, Brussels
Multi-tiered ADR clauses: Best (and worst) practices of arbitral tribunals when dealing with objections that the pre-arbitral dispute resolution tier was not complied with, Organizer: CILS, 4 June 2016, Salzburg
Should arbitrators award legal costs incurred in court proceedings relating to the arbitration?, Organizer: International Centre for Dispute Resolution (ICDR), 20 March 2016, Vienna
The new LCIA Rules, New Developments in International Commercial Arbitration 2015, Organizer: CEMAJ, Centre de recherche sur les modes amiables et jurisdictionnels de gestion des conflits, 13 November 2015, Neuchâtel
La urgencia en el arbitraje – El arbitraje acelerado en el Reglamento Suizo de Arbitraje/L'urgenza nell'arbitrato – L'arbitrato rapido nel Regolamento svizzero d'arbitrato; Tempus Fugit, Organizer: Club Español del Arbitraje (CEA) Italy, 23 October 2015, Rome
Appeal proceedings before the Swiss Federal Supreme Court and recent case law, Organizer: Swiss Arbitration Academy (SAA), 22 June 2015, Zurich
La Eficiencia en Arbitraje: Mito y Realidad / Efficiency in Arbitration: Myth and Reality, Organizer: Club Español del Arbitraje (CEA) Switzerland, Germany and Austria, 8 May 2015, Zurich
Expert Evidence in Arbitration, International Arbitration Congress, Organizer: Barcelona Bar Association, 17 October 2014, Barcelona
Post-Award Issues in International Arbitration, Organizer: Swiss Arbitration Academy, 19 June 2014, Zurich
Arbitration and Intellectual Property, International Arbitration Symposium, Organizer: Center for International Legal Studies (CILS), 23 May 2014, Salzburg
The managerial (or mismanaging) arbitrator: What are the limits of his power and the requirements of his duty?, Organizer: SCC/SAA/Stockholm University (Mastering the Challenges in International Arbitration), 29–30 August 2013, Stockholm
Appointment of the Arbitral Tribunal – Do's and Don'ts, Organizer: ASA/CEA (The Taboos in International Arbitration), 6 October 2012, La Lécherette
Salient Features of the Swiss Federal Supreme Court, Organizer: Swiss Arbitration Academy, 25 June 2012, Geneva
International Arbitration and Dispute Resolution conference (Jura Novit Curia), Organizer: Center for International Legal Studies (CILS), 25 May 2012, Salzburg
Recent Developments in Switzerland (revision of the Swiss Rules/latest Supreme Court case law), Organizer: Chartered Institute of Arbitrators (CIArb)/Club Español del Arbitraje (CEA), 20 April 2012, Madrid
Which is the better approach to Jura Novit Arbiter - the Swiss or the English?, New Developments in International Commercial Arbitration 2010, Organizer: CEMAJ, Centre de recherche sur les modes amiables et jurisdictionnels de gestion des conflits, 12 November 2010, Neuchâtel
Wie endgültig ist ein Final Award? Die Schiedsbeschwerde an das Schweizerische Bundesgericht, ZAV-Fachgruppenveranstaltung vom 8. Novem-ber 2010, Organizer: ZAV Fachgruppe Schiedsrecht / ASA Lokalgruppe Zürich, 8 November 2010, Zurich
Do's & Don'ts in proceedings before the Swiss Federal Supreme Court – having regard to the basic attitude of the Supreme Court judges and law clerks towards appeals, Challenge and Enforcement of Arbitral Awards, Organizer: Swiss Arbitration Academy, 19 June 2010, Zurich
Due Process in internationalen Schiedsverfahren – Ein Rechtsvergleich von Gerichtsentscheiden aus England und der Schweiz zur Anfechtung von Schiedssprüchen wegen Verletzung des rechtlichen Gehörs, "Due Process" in Schiedsverfahren, Organizer: Fachgruppe Schiedsgerichtsrecht ZAV / ASA Lokalgruppe Zürich, 26 October 2009, Zurich
The internal workings of the Swiss Federal Supreme Court when dealing with written submissions (appeals in general and challenges of arbitral awards in particular), From the Hearing to the Challenge and Enforcement of the Award, Organizer: Swiss Arbitration Academy, 22 June 2009, Geneva
Drafting challenges against international arbitral awards rendered in Switzerland, Challenge of Awards – Do's and Don'ts (Organizer: ASA Below 40), 7 May 2009, Geneva
Confidentiality in International Arbitration Proceedings (Confidenzialità della procedura arbitrale), Organizer: Swiss Arbitration Association Group Ticino/Gruppo ASA della Svizzera Italiana, GASI, 19 February 2009, Lugano
The Interplay of National Arbitration Laws and International Arbitration Rules, Introduction to International Commercial Arbitration, Organizer: Bär & Karrer AG, 1 April 2008, Zurich
Dr. Manuel Arroyo, LL.M., MCIArb
+41 44 250 45 70 Phone
+41 76 339 90 23 Mobile
arroyo@ndlegal.ch
Download vCard ›
Download PDF ›
The most comprehensive treatise on International Arbitration in Switzerland
by Manuel Arroyo
2'957 pages, 2 volumes, including, inter alia, 5 article-by-article commentaries on:
Chapter 12 PILS
Swiss Rules
ICC Rules
CAS Rules
WIPO Rules
ISBN 978-90-4119-237-0
Further information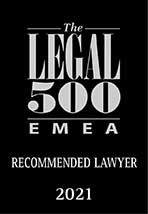 All Lawyers
Manuel Arroyo
Mathis Berger ›
Roberto Dallafior ›
Zoe De Santis ›
Andrea Etienne ›
Reto M. Hilty ›
Biljana Malesevic ›
Hans Nater ›
Patrik Salzmann ›
Benjamin Schumacher ›
Tobias Thaler ›
Maria Walter Burkhardt ›
Florentin Weibel ›