MLaw Zoe De Santis, LL.M.
Position
Counsel
Expertise
Zoe De Santis represents clients before state courts, arbitral tribunals and administrative bodies, focusing on corporate and commercial litigation and arbitration as well as media, copyright and trademark matters.
Professional experience
Admitted to the bar since 2011; junior associate with Baker & McKenzie Zurich (2007–2008 and 2010); law clerk with the District Court of Horgen (2008–2009); associate with Nater Dallafior Rechtsanwälte AG, Zurich, since 2011
Languages
German, English, French
Professional recognition
Legal500
write that according to clients,
"Zoe De Santis is an excellent and highly skilled Counsel"
. Furthermore:
"Zoe De Santis is a very skilled and experienced litigator with an exceptionally strong media law background"
.

Education
Studies at the University of Freiburg i. Ue. (MLaw, 2007); post graduate studies at the UCL University College of London (LL.M. in dispute resolution, 2014)
Professional affiliations
Zurich Bar Association (ZAV); Swiss Bar Association (SAV)
Publications
Benjamin Schumacher/Zoe Honegger, Klagen gegen einfache Streitgenossen: Handelsgericht, Bezirksgericht oder beide? – Eine kritische Betrachtung der Praxis im Kanton Zürich, Allgemeine Juristische Praxis (AJP/PJA) 26 (2017) Nr. 7, S. 863 ff.
Besonderheiten beim Export von Gütern und Dienstleistungen, in: Vertriebsverträge II, Bern 2011 (zusammen mit Markus Berni)
Die unmittelbare Drittwirkung der Grundfreiheiten, in: ius.full 6/2005, S. 254-263
MLaw Zoe De Santis, LL.M.
+41 44 250 45 91 Phone
+41 79 628 38 16 Mobile
desantis@ndlegal.ch
Download vCard ›
Download PDF ›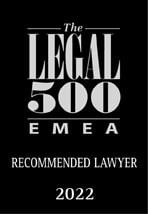 All Lawyers
Mathis Berger ›
Roberto Dallafior ›
Zoe De Santis
Andrea Etienne ›
Reto M. Hilty ›
Biljana Malesevic ›
Hans Nater ›
Patrik Salzmann ›
Benjamin Schumacher ›
Tobias Thaler ›
Maria Walter Burkhardt ›
Florentin Weibel ›